Blog by Fife Ambassador Christopher Trotter
It's funny how one can grow up assuming that the quotidian in your life must be the same. I had always assumed that the arrival of the fish van once a week happened in England as well and possibly elsewhere in Europe, but no, it is an institution unique to Scotland! Everywhere I lived with my family as a child we've had fish vans from Aberdeen to Banchory to St Andrews.
And now every week Robert Anderson arrives at 8 am in his refrigerated van and a few parps on his car horn announces his arrival to our little community. Sadly only about four of us from a potential of nine use him, but it seems to be enough to keep Robert coming to us. His father began the service and between him and his dad the business has been selling fish for over 40 years. He starts early enough loading the final produce in St Monans and then sets out four times a week stretching as far as Stirling.
In a recent blog I mentioned that Billingsgate market in London handled over 120 species of fish but the great British fish buying public buy only 5 - Cod haddock tuna salmon and prawns! Robert confirmed this by describing a typical shopper asking what various different fish were that he had beautifully laid out in the back of his van: "Oh what's that? "It's Hake" says Robert. "Oh and what's that?" "It's Coley" says Robert. "Can I have two fillets of cod please"..........
It's my mission for 2017 to get us eating more fish than just the famous five!
Fish vans in Fife run every day of the week, so if you're not sure where to find one which stops near you, ask a neighbour. Or if you see a van, chances are they will have a phone number on the side. As regards fish shops in Fife we are still pretty lucky in that score. The East Neuk has plenty, with shops and stalls in all the villages from Lower Largo round to Crail. And don't forget the new one run by George Anderson at Pittenweem fish market during the summer. St Andrews has two; Kerachers and the Tailend, where there is also a fantastic restaurant with the best fish and chips in town. There are fish shops spread right across Fife including; Murrays in Inverkeithing, McLeish in Glenrothes, Lochgelly and Cowdenbeath both have shops, as does Cupar and Dunfermline.
So next time you go to the fishmonger or your fish van, ask what other fish there are in the North sea and the Atlantic ocean!
Here's a recipe to get you started:
SPICED KALE WITH COCONUT MILK AND SMOKED HAKE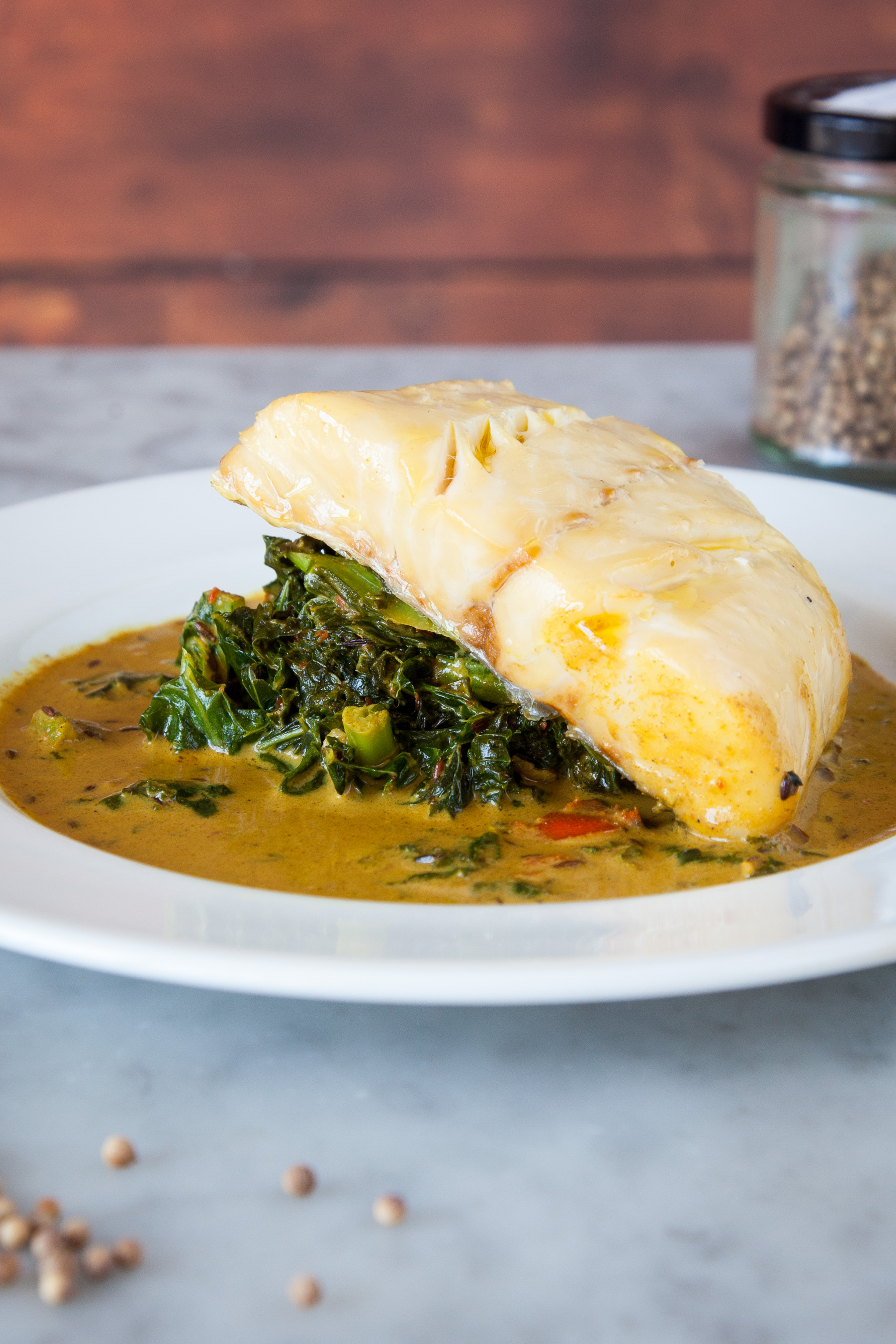 The smokeyness of the fish goes well with the coconut milk and the colours are great too. Try using some Hebridean smoked salt to enhance the smoke, or even the seaweed-flavoured one.
INGREDIENTS
200g kale
4 cloves garlic peeled
2 whole red chillies seeded
2 tsp ground cumin
1 tsp ground coriander
½ tsp turmeric
2 tblsp vegetable oil
1 tsp whole cumin seeds
4 fillets of smoked hake
1 tsp Hebridean sea salt
4 tblsp coconut milk
METHOD
1 Trim the kale and remove the tough stalk ends and cut into roughly 3cm pieces.
2 Blitz the garlic and chilli together with enough water to form a light paste.
3 Pour into a bowl and add the three ground spices.
4 Heat a large pan with the oil and stir in the cumin seeds, stir gently until they sizzle. Turn the heat down and add the spice mix and fry for a few minutes.
5 Add the kale and stir to really mix through; add a little water. Push the fish fillets carefully into the mixture. Cover and cook gently for 10 minutes.
6 Remove the lid; add the coconut milk and raise the temperature. Cook until the mixture just coats the kale.
The mixture goes well with a curried lamb dish or other vegetable dishes, without the fish.