Let Jess the Jester take you on an augmented reality experience
If you're looking for things to do this October break when the kids are off, we've got some great ideas for fun family days out. Download our free augmented reality app and let Jess the Jester take you on a journey across the Kingdom, following in the footsteps of Kings and watch amazing historic sites come to life before your eyes.
In the Footsteps of Kings uses the latest mobile technologies at historic sites across Fife, putting the power of cannons, castle-building, ghost hunting and more in the your hands!
The six historic sites on the trail include Ravenscraig Castle, Aberdour Castle, Markinch Church, Lochore Castle and Falkland Palace and Estate.
Here are our top tips for some family friendly fun along the way:
Kirkcaldy
Did you know Ravenscraig castle is considered to be one of the first in Scotland built to withstand cannon fire? With a stunning scenic backdrop, kids can try their hand at loading a cannon and firing at pirate boats in the Forth using the new app. Ooh arrr!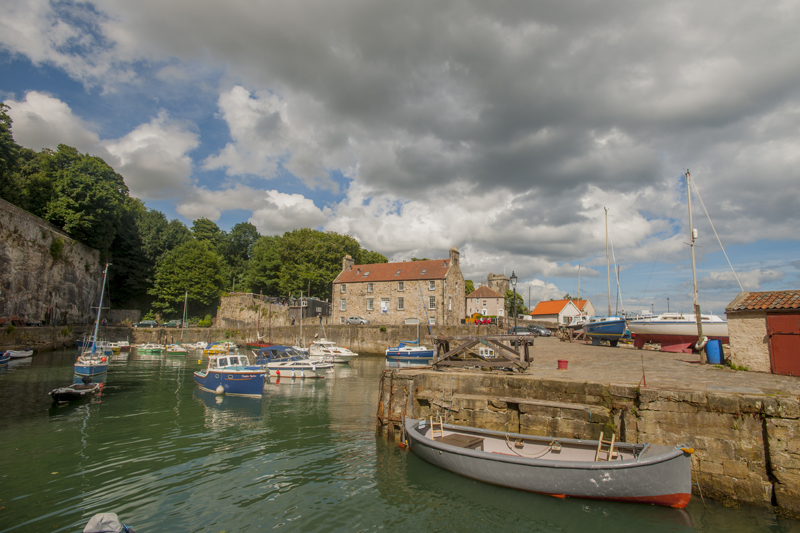 Set in Ravenscraig park, kids can enjoy hours of fun playing in the park, beautiful walks, exploring woodland trails or kicking around on the sandy beach at Pathead Sands. If you're feeling energetic, why not tackle a stretch of the Fife Coastal Path, Fife's longest continuous coastal path. A short walk takes you into Dysart, famous for featuring in Outlander, where you can pop in to the Harbourmaster's House for a cuppa. Kirkcaldy Galleries is also well worth a visit, with library, museum, art gallery, local & family history room, cafe, gift shop and children's areas - all under one roof and with free admission!
Lochore Meadows
Lochore Meadows is Fife's most popular free visitor attraction, known locally as the 'Meedies', and it's clear to see why. Make a day of it and enjoy this delightful park, walk around the loch or try out some of the water sports including stand up paddle boarding and canoeing. Fife Cycle Park is a few minutes drive along the road near Lochgelly, a purpose built 1.6km tarmac cycle circuit, perfect for a family cycle where you can hire bikes and helmets too if needed.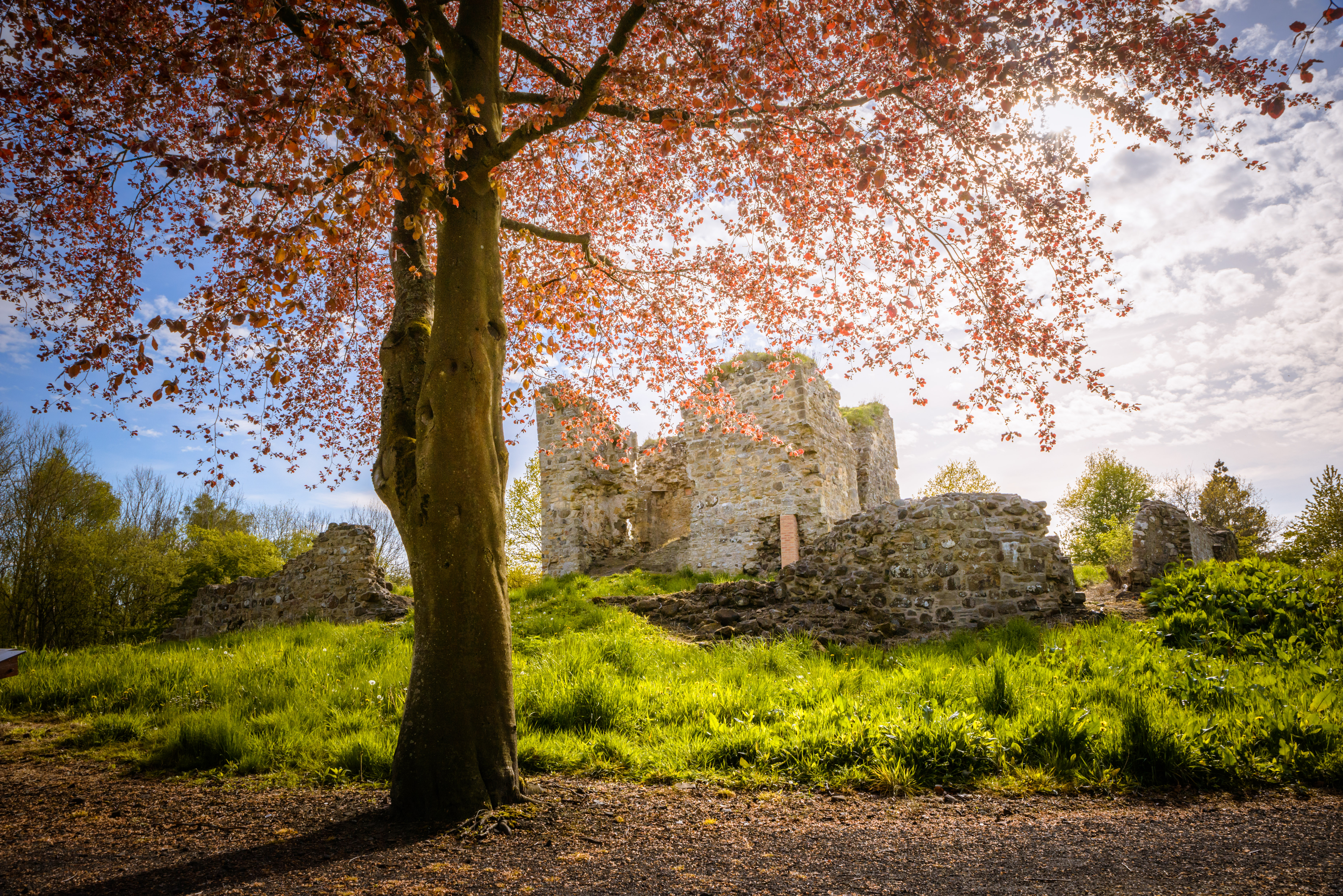 The augmented reality experience can be found at Lochore Castle (as you drive in to Lochore Meadows). Once upon a time Lochore Castle stood on an island and was the fortress home of the Lochore family. It was described as one of the strongest castles in Fife in the 16th Century. Your challenge here is to find the flags hidden round the castle!
Markinch
Markinch may be small, but there's plenty to do. Balbirnie Park is a beautiful park to while away the afternoon. If you're feeling a bit more energetic join the Fife Pilgrim Way – a new 64 mile long distance walking route – which passes through this pretty village. A few miles away you'll find Cluny Activities, one of Scotland's leading outdoor activity centres, where kids can let off steam in the Adventure park, try out some golf at the driving range, archery or play on Scotland's first Footgolf course.
Once the ancient capital of Fife, Markinch is steeped in history and a visit to the church is a must to try out the augmented reality experience here and uncover historic facts such as King James I ordered everyone over the age of 12 to practice archery! You can still see the arrow sharpening marks on the stone work behind the church!
Falkland
Just along the road from Markinch, you'll find this gem of a village. Falkland is quaint and another location well known as to Outlander fans. Around each cobbled street corner, you'll stumble upon gorgeous gift shops and cafes. Head to Falkland Estate to enjoy acres of beautiful countryside and woodlands, where you can also enjoy five more augmented reality experiences all inspired by nature. There's also a cafe on-site for when the kids get peckish, as well as Pillars of Hercules organic café and farm shop nearby.
Falkland Palace was a favourite hunting ground of Mary Queen of Scots and is home to the UK's oldest real tennis court. Use the app here to play real tennis with ghosts! Although you need to pay to visit the Palace and gardens, you can enjoy the augmented reality experience during opening hours for free, as it's located just inside the main gates.
Aberdour
For the perfect family day out, head to the coastal village of Aberdour. There are some lovely cafes and shops, not to mention the award-winning beach Silver Sands, and it's right on the Fife Coastal Path.
The jewel though is Aberdour Castle, another Outlander location and once the luxurious Renaissance home and pleasure gardens of Scotland's most powerful man. It's also among the oldest standing masonry castles in Scotland. You can enjoy the augmented reality experience without paying the admission fee…although it's well worth a visit! Your challenge is to rebuild the castle.
So what are you waiting for? Download the free app and start exploring! Visit each of the six beautiful locations and bring history to life through fun augmented reality experiences. The App is free and available to download on Google Play, App Store and Amazon.
Please note:
THIS APP WORKS WITH THE MAJORITY OF APPLE, ANDROID AND AMAZON DEVICES FROM 2015 ONWARDS. PLEASE NOTE THAT DEVICES REQUIRE A GYROSCOPE WHICH IS BUILT-IN IN MOST CASES. HOWEVER, SAMSUNG HAVE EXCLUDED THIS ELEMENT IN SOME OF THEIR A & J SERIES MOBILE PHONES WHICH MEANS THEY ARE UNABLE TO RUN AUGMENTED REALITY OR VIRTUAL REALITY APPS / MOBILE GAMES.
You can check your phones features at https://www.gsmarena.com/. Enter the phone in the search box. Once it comes up and you've selected the phone, scroll down to features and if it says "Gyro", your phone should be compatible.