Here are a selection of recipes by Fife Food Ambassador Christopher Trotter: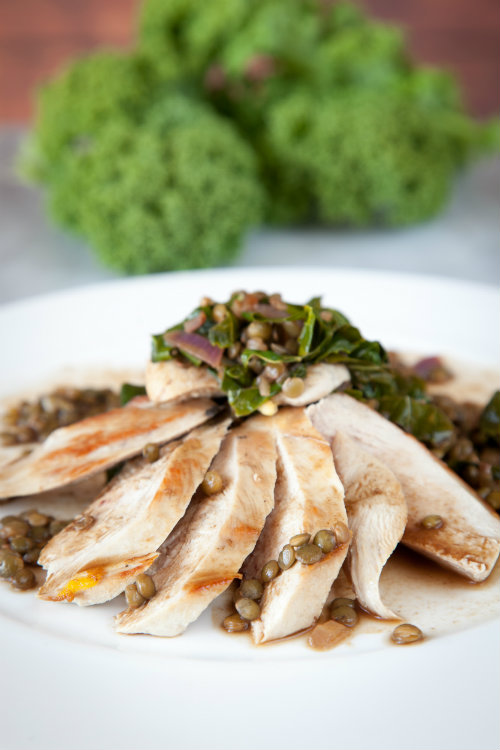 BRAISED PHEASANT BREAST WITH KALE AND PUY LENTILS
Kale is really good with big flavours and provides colour in what might otherwise be a dull-looking dish. Pheasants are available right now
INGREDIENTS
200g puy lentils
2 tsp vegetable oil
4 pheasant breasts
2 tsp butter
1 onion peeled and finely chopped
2 cloves garlic peeled and crushed
2 sticks celery, cut to a small dice
2 medium carrots, cut to a small dice
200g kale roughly chopped
½ tsp Hebridean salt
Freshly ground black pepper
METHOD
1 Rinse the lentils in cold water and then place in a pan and cover with water bring to the boil and simmer for 10 minutes, drain and set aside.
2 Take a liddable pan and set it over a medium heat and add the oil. Dry the pheasant breasts on kitchen paper and brown on both sides, raising the heat as needed; remove and set aside.
3 Lower the heat, add the butter and the chopped onion, sweat gently to colour a little and then stir in the garlic, celery and carrots, add the lentils and water, enough to cover. Place the pheasant on top and cover. Cook gently until the water almost evaporates.
4 Take out the pheasant; stir in the kale to wilt, and cook for a few minutes. Season with a little salt and pepper. Serve with the pheasant on top.
OVEN CHIPS
INGREDIENTS
I have used Mayan Gold potatoes for this recipe but why not Innovate yourself and use and different variety maybe even one that Archibald Findlay developed. Pentland Dell and Maris Piper were both developed from his breeding stock.
4 large potatoes, scrubbed but not peeled
A little cold pressed rape seed oil
Sea salt such as Hebridean
METHOD
1 Set the oven to the 250C gas 9
2 Cut the potatoes into chunks lengthwise
3 Wash in cold water and dry on a tea towel
4 Coat lightly in the oil and spread over a roasting tin and cook for about 30 minutes shaking occasionally until crisp and browned