For St Andrew's Day this year, we want to celebrate everything that is good about Scotland and showcase how much it has to offer; it's wonderful hospitality, heritage and culture.
We would love for you to join us in getting into the spirit this year by sending in a photograph of yourself wearing a kilt or something tartan!
Simply upload an image (or video) of yourself to any social media channel, using the #GetYerKiltOn hashtag. We will share your photographs on our Welcome to Fife pages on the run up to St Andrew's Day which takes place on the 30th of November! You can take your photo anywhere you like - the wackier better. (remember to make sure your post is public so that we can see it!).
In order to celebrate, lots of exciting events, activities and promotions will be going ahead in Fife including ceilidhs, whisky tastings, workshops plus loads of fantastic Scottish-themed food & drink.
Find out what's on in the listings below and come to Fife to celebrate!
So what are you waiting for? Throw on your kilt and celebrate St Andrew's Day in style! Heeeyyuch!
What's On?
Where better to celebrate Scotland's National Day than the town that bears the same name? The town of St Andrew's are hosting a huge St Andrew's Day bash this year; The Big Hoolie which is jam-packed with entertainment. There will be ceilidhs, parades, a huge fireworks display on West Sands Beach, food & drink and music as well as a festive artisan market taking place at Madras College Quadrangle!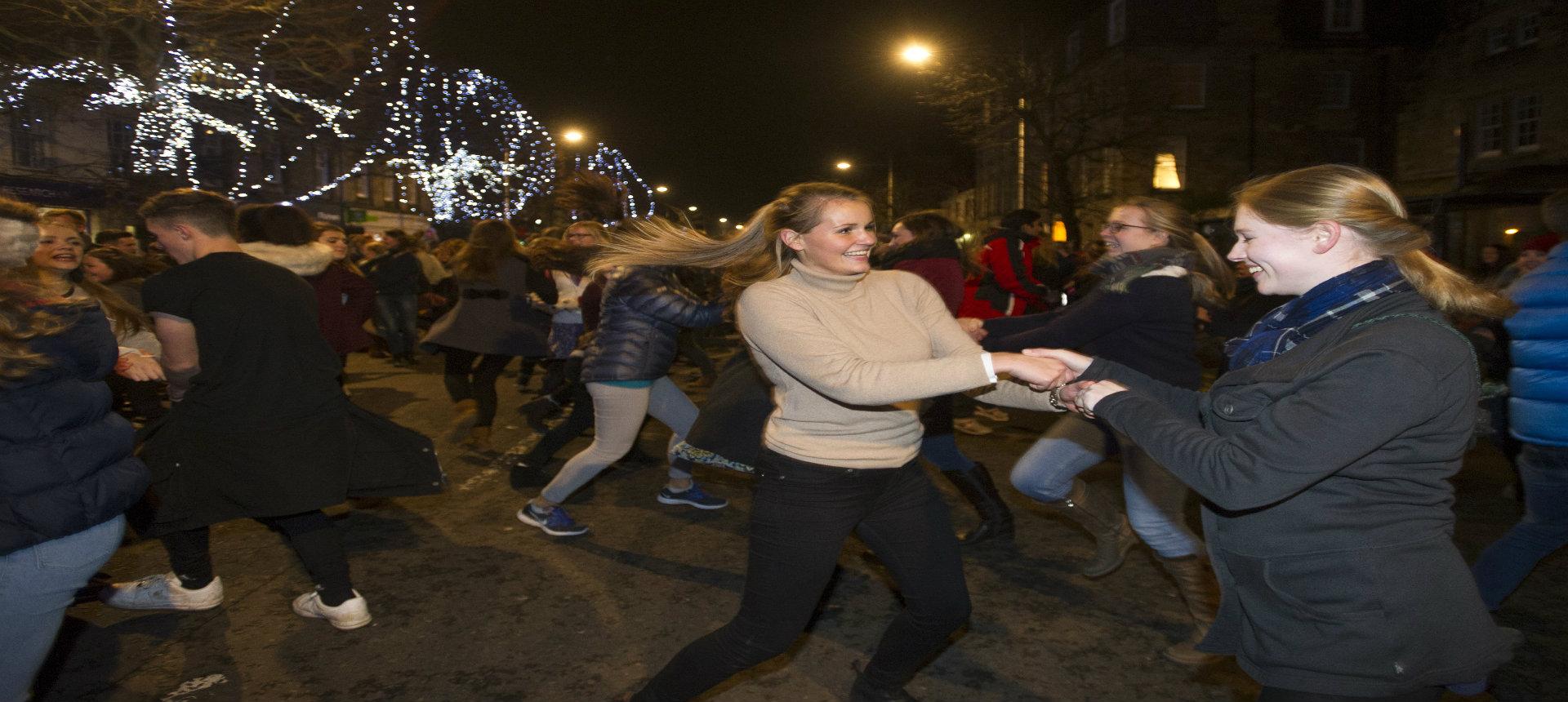 If you're planning on heading along for the celebrations, why not the Scottish Fisheries Museum in Anstruther on the 29th of November to create some special St Andrew's Day crafts? You can make a selection of banners and flags from 1.00pm - 4.00pm and the event is free entry.
Why not take the kids along to the St Andrew's Museum on the 30th of November from 10.30 - 12.00pm for some traditional tales at the Scottish Stories for St Andrew's Day event hosted by the enchanting storyteller Sheila Kinninmonth. Kids can make a character puppet after the session which they can use to re tell the tales!
Music and Ceilidhs
St Andrew's Day Tea Dance with The Swing Sensation Big Tea Set
Saturday 30th November, 1.00 – 3.00pm, Overton Mains Community Centre Overton Community Centre, 165 Overton Mains, Kirkcaldy, KY1 3JP. Tickets £9.00
Swing your kilt and celebrate St Andrews day in style at The Lang Toun Jazz Festival's tea dance with this fabulous band! Ticket price includes tea and shortbread.
Saturday 30th November, 8.30pm – 12am, Burntisland Golf Club, Dodhead, Burntisland, Heartlands of Fife, KY3 9LQ. Tickets £30.00
Poppyscotland are holding a ceilidh to help raise funds for the Armed Forces community. Come along for a night of music, dance and food! There will be a raffle and silent auction on the night. Ticket price includes a full three course meal.
St Andrews Night Concert With The Bowhill Players
8.00 – 10.00pm, Dunfermline Carnegie Library & Galleries, 1-7 Abbot Street, Dunfermline, KY12 7NL
Celebrate St Andrew's Night in the magnificent setting of the Canmore Room in Dunfermline Carnegie Library and Galleries with the six-piece traditional Fife folk group 'The Bowhill Players'. Heaven Scent cafe/bar will be open from 7.00pm and during the interval.
Greener Kirkcaldy 10th Anniversary Celebration Ceilidh
Friday 29th of November, 7.30pm – 11.00pm, St Bryce Centre, St Brycedale Avenue, Kirkcaldy, KY1 1ET. Tickets: Adult: £12.50 Child: £5 Family: £25
Join Greener Kirkcaldy and celebrate their 10-year anniversary on the eve of St Andrew's Day. Enjoy a family-friendly ceilidh with the James Coutts band plus special guests as well as haggis stovies, homemade tablet and a raffle. There will also be a cash bar selling beers and wines.
St Andrew's Night - Ceilidh at Forgan's
Saturday 30th of November, Forgan's, 110 Market St, St Andrews KY16 9PB
Free ceilidh from 8.00pm until 12.30am. Reservations available from 8pm onwards for dinner and and Ceilidh.

Food & Drink
If you have a sweet tooth, head along to the award-winning Jannetta's Gelateria where Jann & Etta (pictured), milk chocolate and two vanilla filled Heildan Coos will be available on the run-up to St Andrews day. Delicious milk chocolate Heilan Coo Chocolate Bombes will be available on the 29th of November which will include two scoops of your favourite award-winning ice cream, a topping and sauce of your choice topped with fresh cream - chocolate Heaven! Haggis and also Drambuie Ice Cream will run for the week leading up to St Andrews Day in celebration of Scotland's national day.
Savour St Andrews, St Andrew's Day Dinner
Thursday 28th November, 7.00 – 11.00pm, The Old Course Hotel, St Andrews, Pilmour House, St Andrews, St Andrews, KY16 9SF, Tickets; £75 (welcome cocktails included)
Celebrate St Andrew's Day by having a delicious six course dinner cooked by award winning local chefs with wines to match the menu and a whisky toast. The event is a fundraiser for SRUC Elmwood and Fife College professional cookery student buraries and is set to be a fabulous evening in the hotel's ballroom. For tickets, email events@oldcoursehotel.co.uk or call +44(0)1334 468181.
St Andrew's Night at Pillars of Hercules Organic Farm
Saturday 30th November 2019, Event start 6.30pm - last booking 7.30pm.
Enjoy a delicious traditional St Andrew's Day dinner accompanied by live jazz music from the Ray Elrick Duo at the Pillars of Hercules Organic Farm. The 4 course menu includes vegetarian haggis, neeps and tatties served with whisky sauce, traditional lentil soup, a choice between a bothy pie (vegetarian options available) and traditional Scottish cranachan served with shortbread.
£25 per person, tea and coffee included.

If you wish to reserve a table call at 01337857749 or email to cafe@pillars.co.uk. The menu is available as gluten free and Vegan.
St Andrew's Day Celebration Supper
29th November, 7.00 - 11.00pm, The Walled Garden, Ringhead Farm, By Alloa
Celebrate with The Walled Garden, Scottish stories by the fire with captivating leading storyteller Beverley Bryant and traditional music with Falkirk piping and Glenbervie folk duo. Scottish menu, complimentary glass of wine and wee tot of aged malt whisky, bar also available on the night. Raffle on the night in aid of Strathcarron Hospice. Tickets available through Eventbrite.
Offers and Freebies
30th November, 11.00am - 1.00pm, Brewdog St Andrews, 159 South St, St Andrews
To celebrate St Andrew's Day, Brewdog will be hosting a special promo - come into the bar wearing a kilt and you will receive a free bint of BrewDog headliner beer!
Open Day at Belgonie Kilts, 42 Main St, Milton of Balgonie, Glenrothes, KY7 6PX
Has all of this activity inspired you to buy your very own kilt? Head along to Balgonie kilts on the 30th of November between 3.00 - 6.00pm where there will be special St Andrew's Day offers as well as hot drinks and snacks!