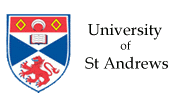 Fife is home to ST ANDREWS UNIVERSITY, Scotland's first university and is the third-oldest in the English-speaking world.

FIFE COLLEGE offers courses from introductory level through to degrees and professional qualifications. With four main campuses across Fife in Dunfermline, Kirkcaldy, Glenrothes and Leven, students benefit from the range of facilities.
SRUC ELMWOOD CAMPUS is a further education college with a mix of golf-related specialisms and land-based courses. Students come from Scotland, the UK, Europe, USA, India and China to study.
In Fife we have:
16 stand alone nurseries
141 primary schools (94 have a Nursery Class and 10 have an Additional Support Class)
19 secondary schools (6 with Departments of Additional Support)
6 special schools
5 Pupil Support Service Centres
FInd out more here: FIFE DIRECT SCHOOLS