There's no shortage of things to do or places to go with an under-five in Fife, as travel writer Janey Swanson and her little boy AJ discovered.
1 .
Cairnie Fruit Farm & Mega Maze
For AJ, there were three main reasons he loved our visit to Cairnie Farm's Kids' Funyard – tractors, diggers and strawberries. As well as ride-on tractors, there's a full-size vintage tractor which kids can sit on to their heart's delight, which AJ did! He also loved the kid-sized diggers, although these require a £1 coin so remember to take a few with you. Big slides, big bounces on the trampolines and even bigger bounces on the bouncy pillow were followed by strawberries fresh from a nearby field – perfect!
Adult £6.50, Child £8.00 (plus £0.50 booking fee); under-threes and over-sixties free.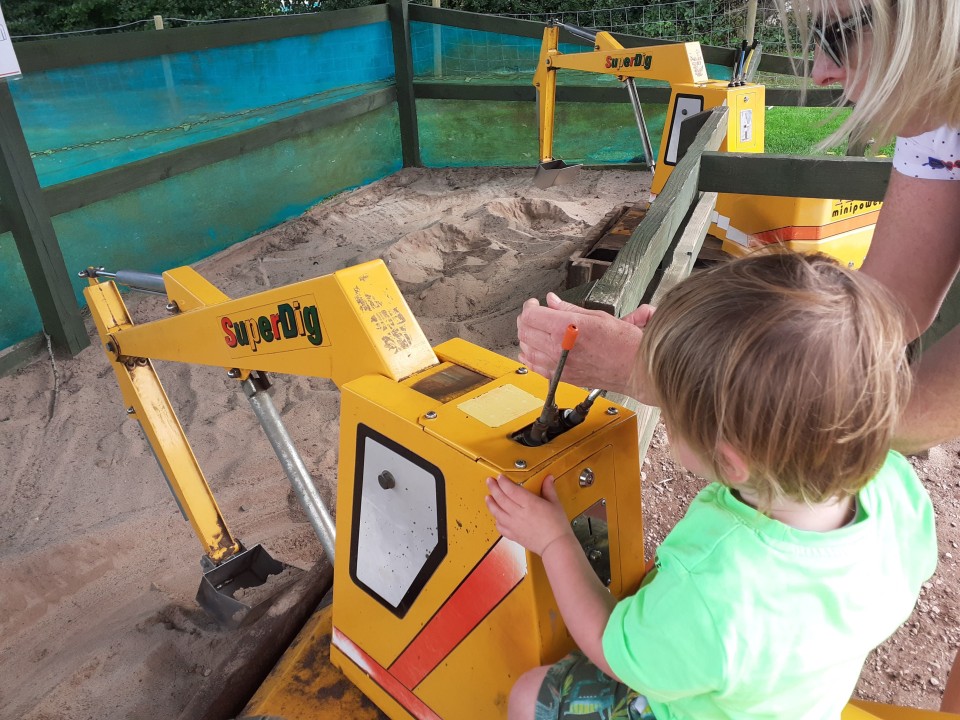 2 .
Cambo Gardens
Although not an obvious destination for a toddler outing, Cambo Gardens proved to be an excellent choice. We explored the stunning walled garden while trying to catch butterflies and looking for statues in unexpected places. We then headed off to Cambo's Lost Elf Village with its dens, huts and, always an attraction to a three-year-old, bug hotels, before searching for the elusive Glingbobs and Tootflits which live in Cambo Den.
Adult £6.50, under-16s free.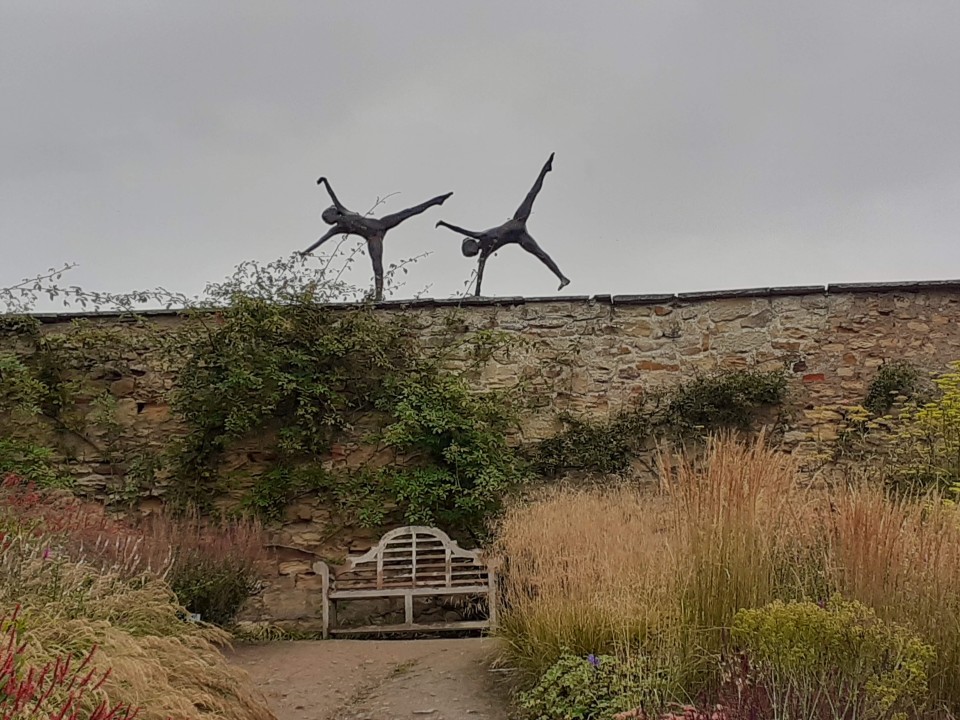 3 .
Craigtoun Park
When I was a child, my parents often took me to Craigtoun Park, with its boating lakes and island village, Fairy Glen hidden in the woods, little train chugging along the railway line, the Puffin' Billy tractor-drawn train, crazy golf and all-encompassing magical atmosphere. Today, Craigtoun Park is just as I remember it. In fact, it's even better than I remember, with bouncy castles, pedal cars, go-karts, trampolines and an adventure playground. It's no wonder AJ smiled from the moment we arrived until we reluctantly left, five hours later.
Admission and parking free, tickets must be purchased on the day for paid attractions.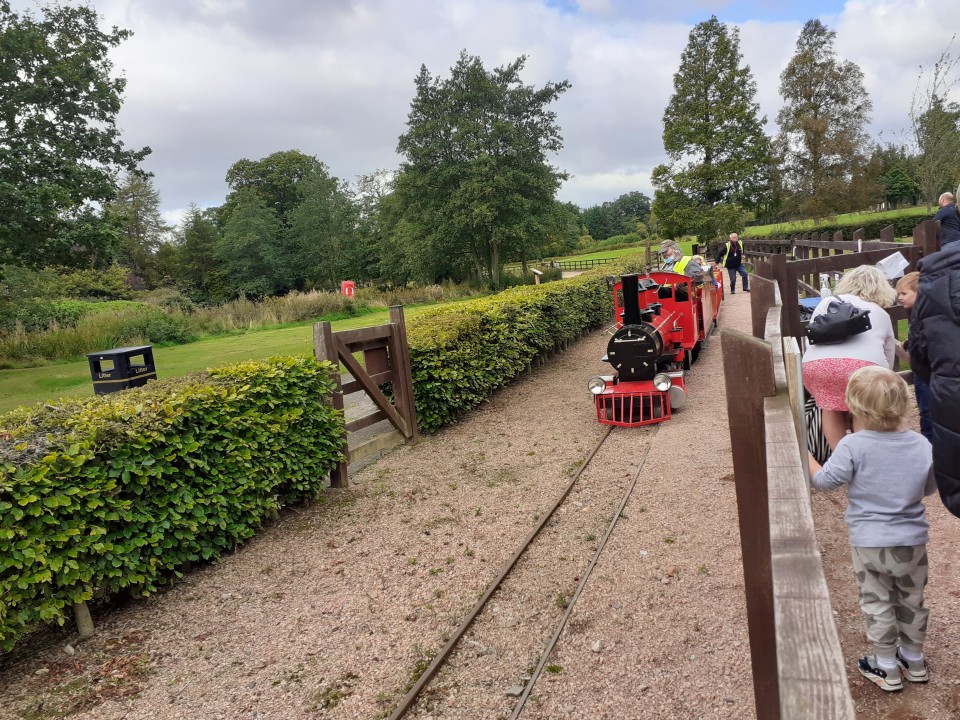 4 .
Crail Festival Putting Green
Open weekends in June and September and daily in July and August, this beautifully-kept 18 hole putting green only ten miles from the home of golf was packed when we went along. With AJ clutching a tot-sized putter and a bright pink golf ball, we teed off and, although it took quite a few shots, we both finally completed the first hole. The other putters were very understanding of our limited golf skills and, at the 18th hole, our closely-fought game was declared a draw. And AJ announced that, when he's a big boy, he wants to be a golfer!
Adult £2, child £1.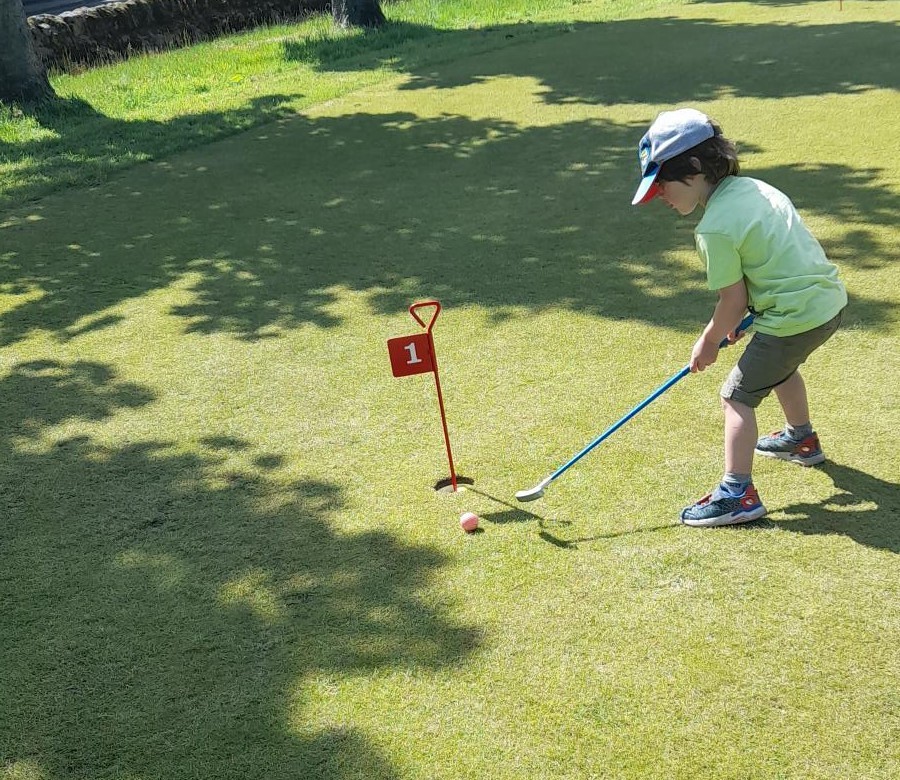 5 .
Crail Waterfront
The Instagram-perfect fishing village of Crail is the perfect spot for a few hours messing about by the sea. We started at the small but excellent play park overlooking Roome Bay, where AJ scaled his first climbing wall, before walking the sort distance through the village to Crail Harbour. After making sandcastles at the small but sheltered beach, going for a paddle and fishing in the rock pools, we explored the harbour with its boats and creels, stopping off for an ice cream at Brodie's Grannie's (AJ) and a freshly-cooked, locally-caught crab roll from the Lobster Hut (me).
Free – apart from AJ's ice cream and my crab roll.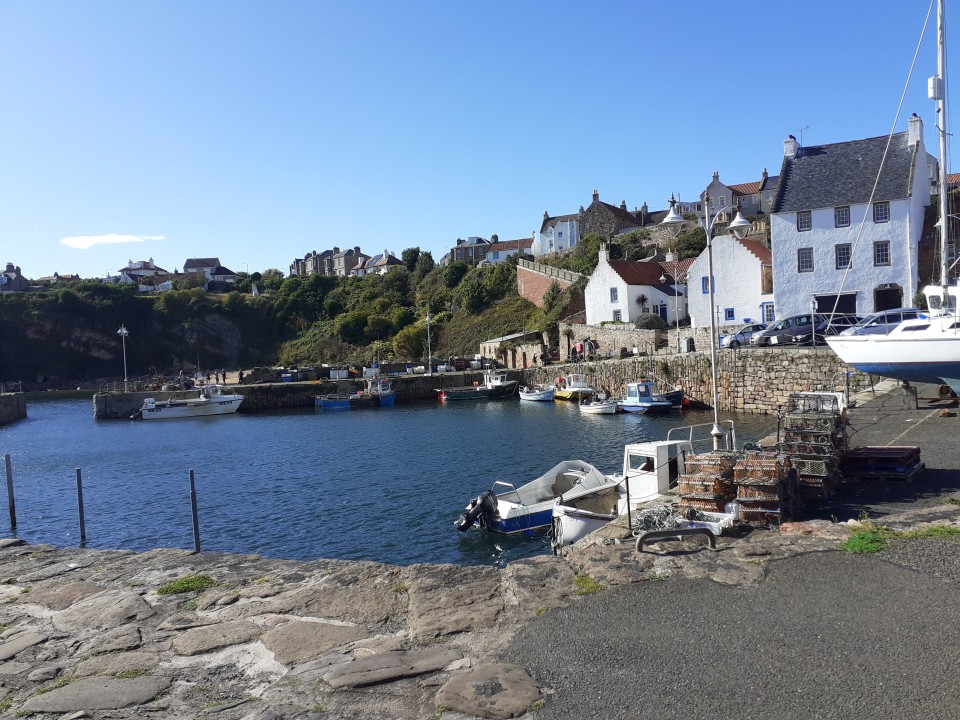 6 .
Kayaking, Elie
On a sunny, calm day, the sheltered bay at Elie proved to be an ideal spot for my wee one's first kayaking trip. I hired a double kayak - wetsuits and life jackets supplied – from the beachside Elie Watersports and, after very helpful safety advice, we paddled off towards the other side of the bay. With AJ happily sitting in the front of my kayak, I enjoyed a gentle bob about in the reassuringly shallow water, while AJ splashed any passing paddleboarders with his oar, looked for fish and giggled every time the swell lifted up our kayak.
Double kayak hire, £30 (1 hour).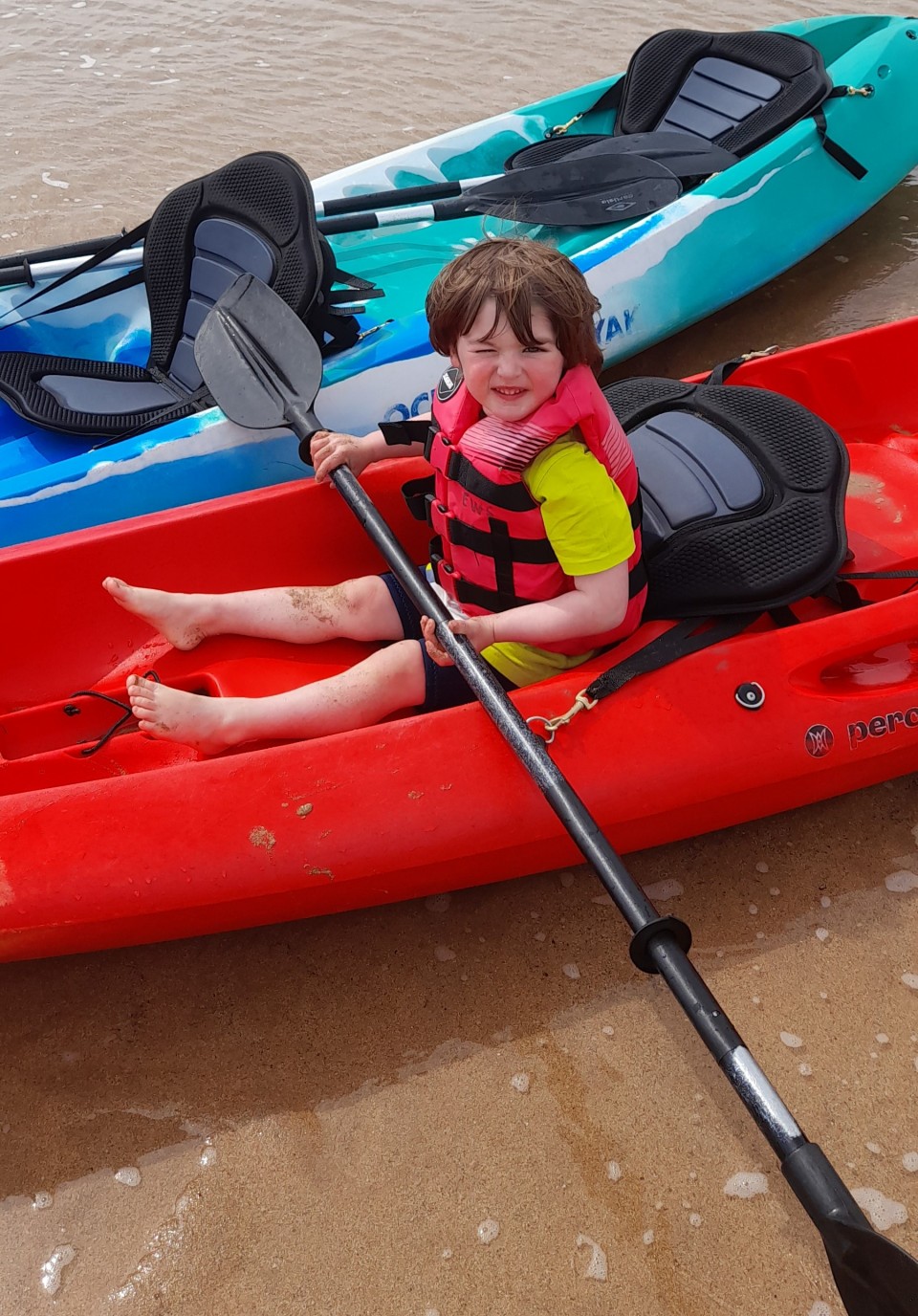 7 .
Kingsbarns Beach
Never mind buckets and spades – Fife's sandy beaches are the best places ever to play with toy tractors, dumpers and diggers! Sand, pebbles, rocks and rock pools make a play construction site that Bob The Builder would envy! We went to stunning Kingsbarns Beach, a stretch of golden sand which is easy to drive to and has a large parking area. Kingsbarns Beach is also home to the Cheesy Toast Shack and, when sea-air-induced 'hanger' struck, AJ and I shared a Mac 'N' Cheese toastie.
Free parking for first two hours.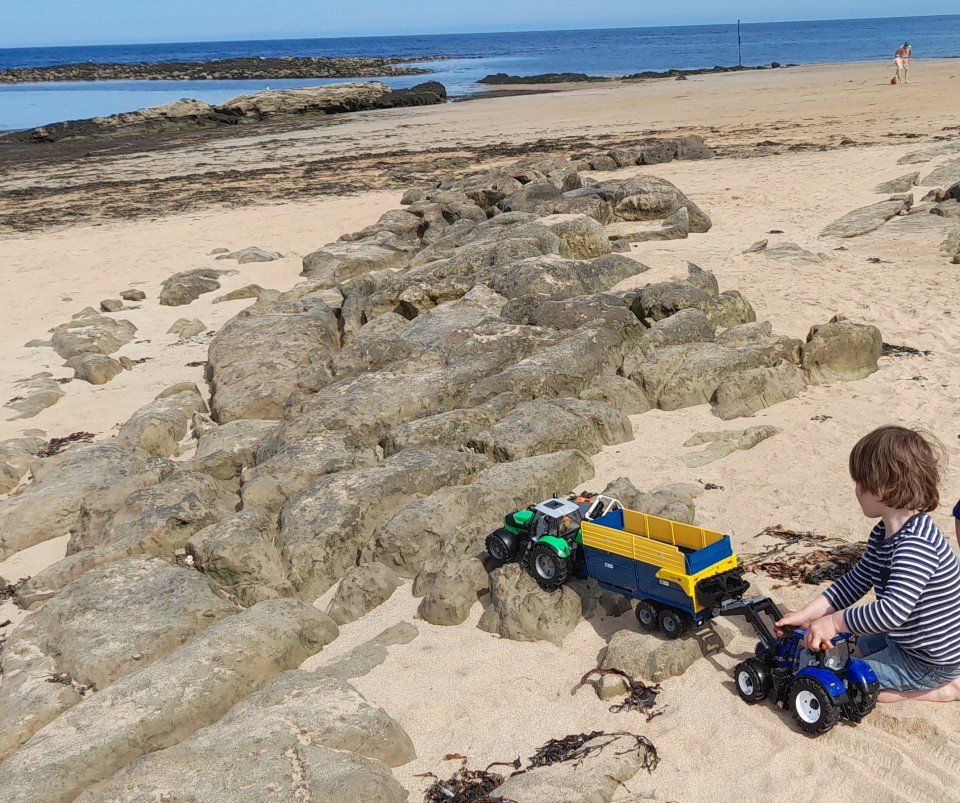 8 .
Lochore Meadows Country Park
Lochgelly
Located in the heart of Fife, this stunning country park is the Kingdom's number one free visitor attraction – and rightly so! Cycling is very popular at Lochore Country Park, however, as AJ isn't quite big enough for a 'real' bicycle yet, I took his balance bike. With AJ balance biking along at high speed, we followed the traffic-free cycle tracks around the loch, through the woods and to the playpark. After tiring AJ out in the hope that he'd sleep that night, it was time for a picnic on the loch's beach, where we watched ducks diving for their tea, the occasional fish jumping and people falling off paddleboards into the water.
Free.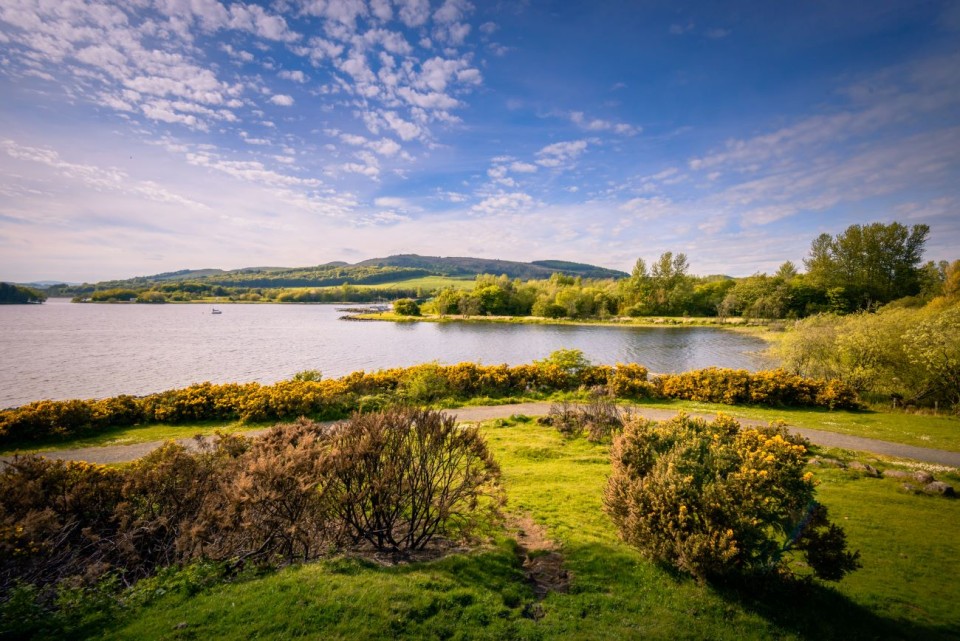 9 .
Muddy Boots
There's an excellent choice of activities for young ones at Muddy Boots, including tractor driving, pedal go-karts, a giant bouncing pillow, large sandpits, an adventure course, grass sledging – and the chance to experience pig racing (which we missed as AJ was otherwise occupied at the go-kart track). If you're looking for wet weather activities, kids don't need to get their boots muddy on a rainy day as there's an excellent indoor playground with a wooden fort for climbing, balancing and sliding, as well as a toy car area, mini-kitchen and ball pool (for under-threes).
Adult (13 – 64) £4.95, under-twos free, two to three £4.95, four to twelve £9.95, 65 and over free.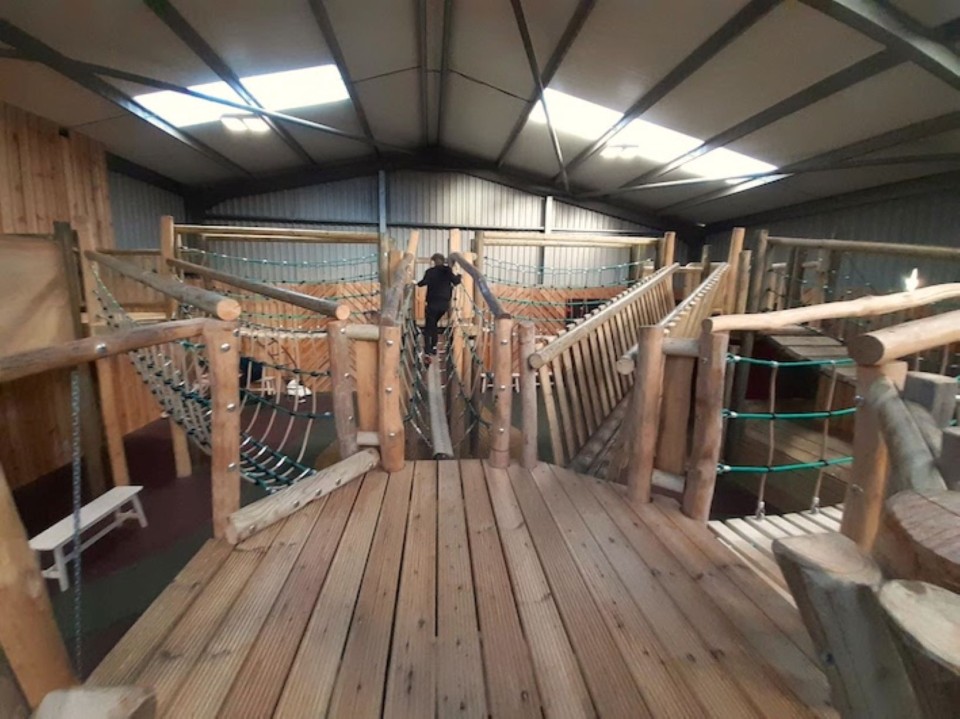 10 .
St Andrews Aquarium
Our trip to St Andrews Aquarium was a great way to introduce AJ to the wonders of the deep blue sea. As well as hundreds of species of fish in tanks specially positioned so even the smallest of children can watch them swim about, there are penguins, seals, crocodiles, turtles - and Baby Sharks! A song which, judging by the impromptu singalongs which broke out several times during our visit, is a song which springs to everyone's mind when standing at the Shark Pool!
Adult £13, child £11, concessions £12, under-twos free.