Walking is a fantastic activity and keeping active and immersing yourself in nature can be an excellent way to improve your mood and physical health. There's loads of locations in Fife to explore on foot and we've selected some of Fife's best walks below.
Walking Your Way to a Better Mood
It's widely known that walking helps to boost mental health. Studies show that even a 10-minute walk in the outdoors can be just as beneficial as a 45-minute workout in reducing anxiety and depression!
Whether you're looking for an energising walk or a scenic stroll, there are hundreds of pleasant walks and trails in Fife which are guaranteed to make you feel great.
The Fife Coastal Path is a popular walking destination covering 117 miles. The Burntisland to Aberdour route takes around 45 minutes and offers a peaceful coastal walk through the trees, finishing up at Aberdour's award winning silver sands beach. From Aberdour, you can continue on to Braefoot Bay where you will find a secluded beach with great views over the Forth river as well as a WW1 coastal defence battery.
Aberdour Harbour
The Crail to Anstruther coastal path route is a slightly longer walk at around 1 hour 20 minutes and is one of the most popular routes on the path. If striking panoramic views over the sea and picturesque fishing villages don't cut it, an ice cream or fish supper at Anstruther Harbour will be sure to give you an instant lift!
Walking for Creativity
As if the mental and physical benefits of walking weren't enough, a study published in the Journal of Experimental Psychology found people who needed a creativity boost had better ideas while walking.
Fife's picturesque coastline has inspired artists, writers and musicians for centuries. It's not surprising that after a stroll down Leven Beach, Jack Vettriano was inspired to paint The Singing Butler! Who wouldn't be influenced by the golden sands, fresh sea air and the stunning backdrop of Largo Law?
Leven Beach
Walks around Fife's parks and gardens such as the Ravenscraig Park in Kirkcaldy and Cambo Gardens and Estate in Kingsbarns are also ideal places to clear the mind and allow your imagination to run wild.
Walking for Fitness
There's no doubt that walking is an excellent cardiovascular workout. For those looking for some more challenging walks, there are plenty hiking spots and routes in Fife where you can get your blood pumping and burn off some calories while enjoying some some amazing views.
Norman's Law is a great for those who enjoy a longer hike. Taking around 2 ½ to 3 hours, it offers fantastic views over the Tay River and is also home to a former iron age fort.
The Lomond Hills also offer lots of great hiking spots with trails lasting anywhere from 1 – 4 hours. West Lomond is the most challenging with a full hike taking around 4 hours, however, you can also do shorter and more manageable walks which are just as scenic, such as Falkland Estate and the Tyndall Bruce Monument Trail.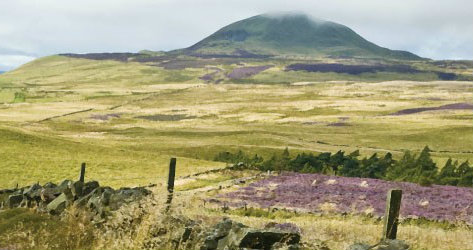 Lomond Hills
For serious fitness fanatics (and history lovers too!) the Fife Pilgrim Way is an excellent walking trail which stretches for 64 miles through FIfe's countryside. The route is broken up into 7 sections, starting from North Queensferry and finishing in St Andrews. There are plenty of accommodation facilities, food & drink establishments and amenities on the way for those embarking on the full journey.
Fife Pilgrim Way Route via Markinch
Walking in Nature
Being immersed in nature is hugely beneficial and promotes improvements in mood and relaxation as well as reduced feelings of stress. You can find many trails in Fife to soothe the soul and our woodlands are the perfect spot for being surrounded by nature.
The Craighall Den Circular Walk is a hidden gem which starts in the historic village of Ceres. The route takes around 1 hour 30 minutes and passes through rural fields and woodlands. Begin at the Hope Green car park and follow the way markers to the den and surrounding trails.
Ceres
Dunfermline's Pittencrieff Park is also a popular spot for short walks. The park entrance is situated in the town centre at the end of the high street. The park features gardens, woodland walks, playgrounds and a glasshouse displaying exotic plants from around the world. Look out for the resident peacocks and squirrels too!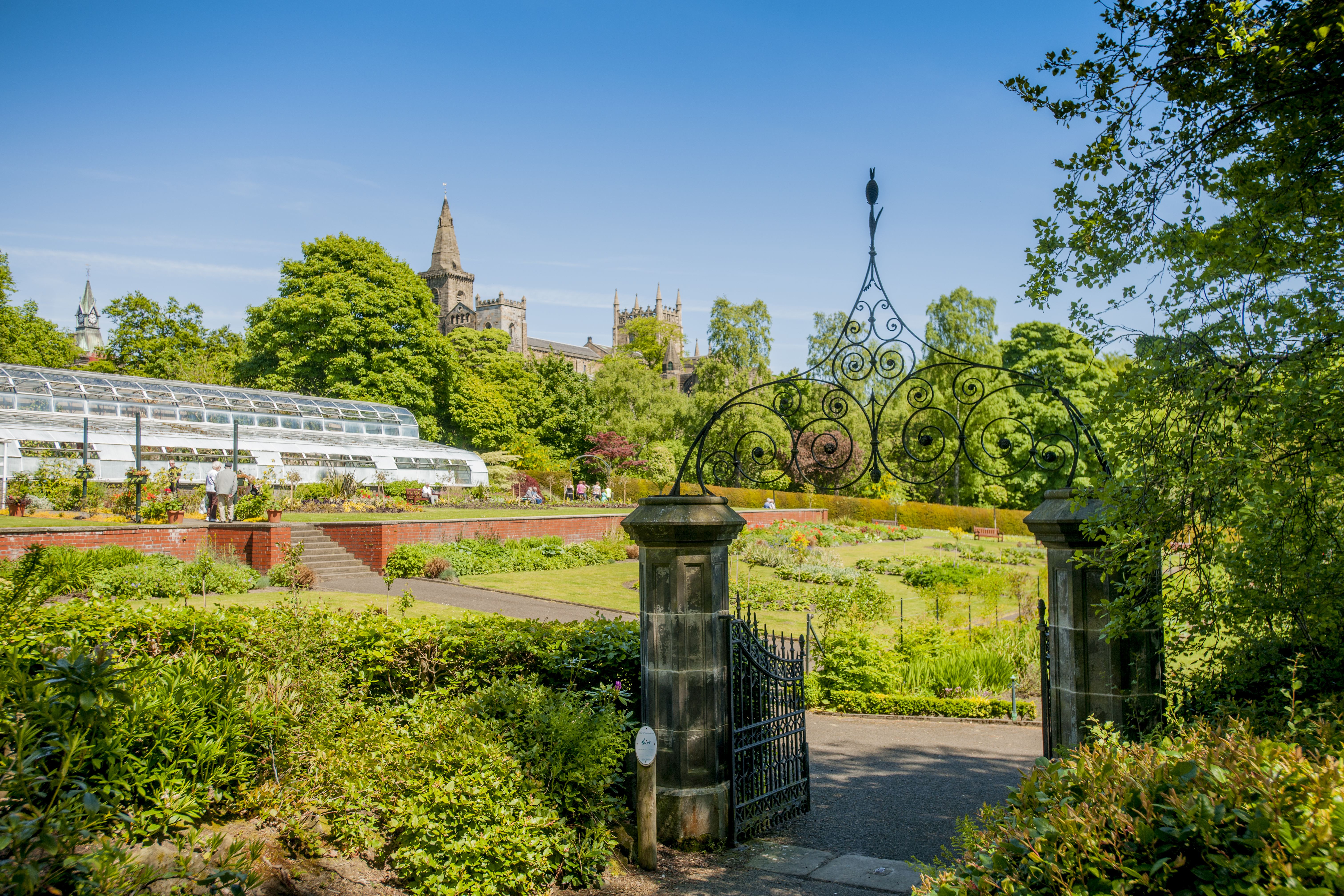 Pittencrieff Park Gardens